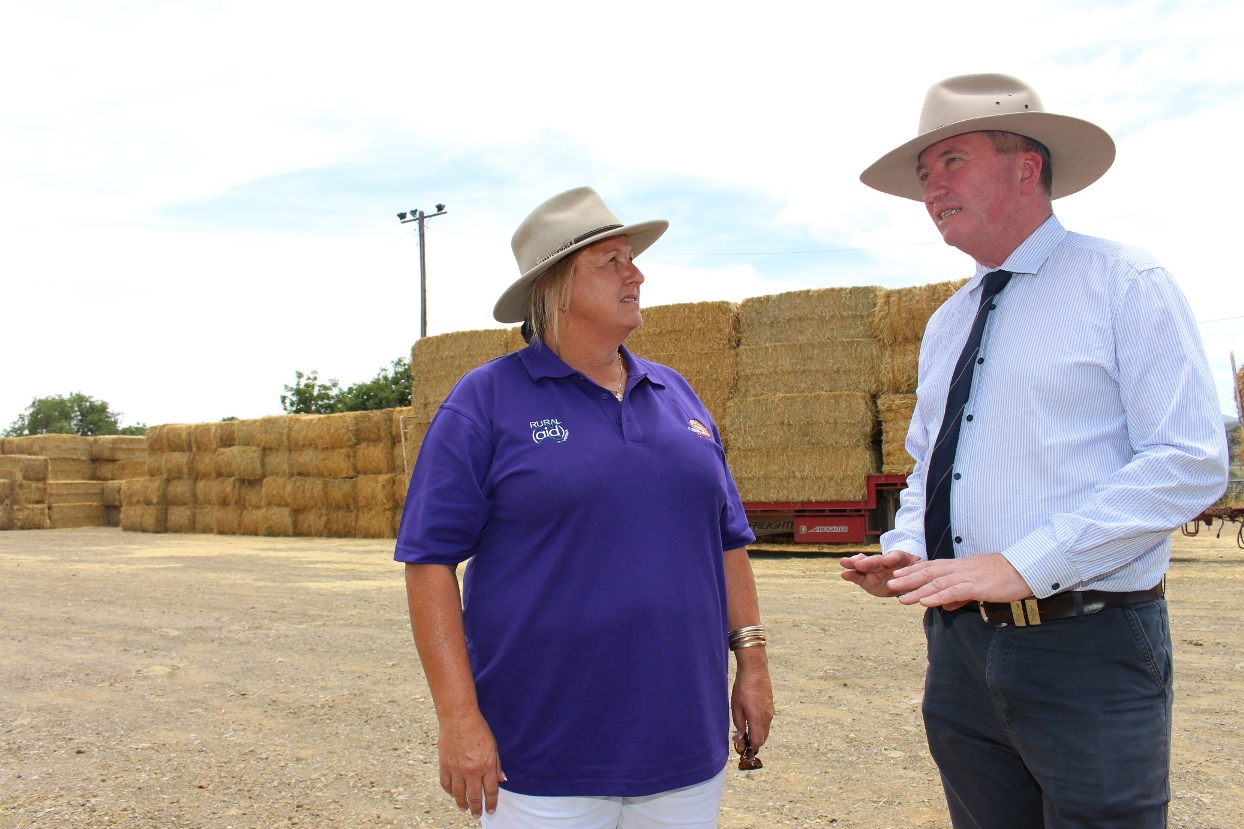 Pictured with Rural Aid co-founder Tracy Alder at the hay drop in Tamworth where 2000 bales will be distributed to local farmers.
Member for New England and Special Envoy for Drought Assistance and Recovery, Barnaby Joyce, welcomed delivery of nearly $1 million in drought assistance to the Tamworth region.
The drought relief is being co-ordinated by Rural Aid and includes more than 30 truckloads of hay, or about 2000 large square bales which will be distributed to 250 farmers from Tamworth and the immediate area.
This assistance comes off the back of the highly successful Hay Mate Concert held in Tamworth in October.
"This hay is going to make a real difference to people's lives, providing tangible assistance that people can roll off the truck and use right now," Mr Joyce said.
"And it's not just hay either, there's extra assistance to help put food on the table tomorrow in households around the Tamworth region and gift cards to reinvest in our local shops and businesses which are also doing it tough through this drought."
The Liberal Nationals Government is continuing to provide further assistance for farmers and communities in drought throughout the New England, including nearly $4 million in grants announced just last week for councils at Tamworth, Armidale, Glen Innes and Inverell under the Drought Communities Program.
Further assistance is also helping local farmers with daily living expenses during this extended dry period, through the Federal Government's Farm Household Allowance.
Assisting this effort in the New England will be newly appointed Farm Liaison Officer, Jennifer Jeffrey, who hails from Moonbi and will be helping local people connect with the services they need including the Rural Financial Counselling Service.
The Liberal Nationals Government has committed to a Future Drought Fund with an initial investment of $3.8 billion, to grow to $5 billion.
This Fund will deliver infrastructure projects, promote use of new technology and help boost environmental and natural resource management on farms.
"This will not be used to fund existing measures already in place, it's about taking a big-picture view about what needs to be done to build resilience and prepare for recovery in future years," Mr Joyce said.
(ENDS)