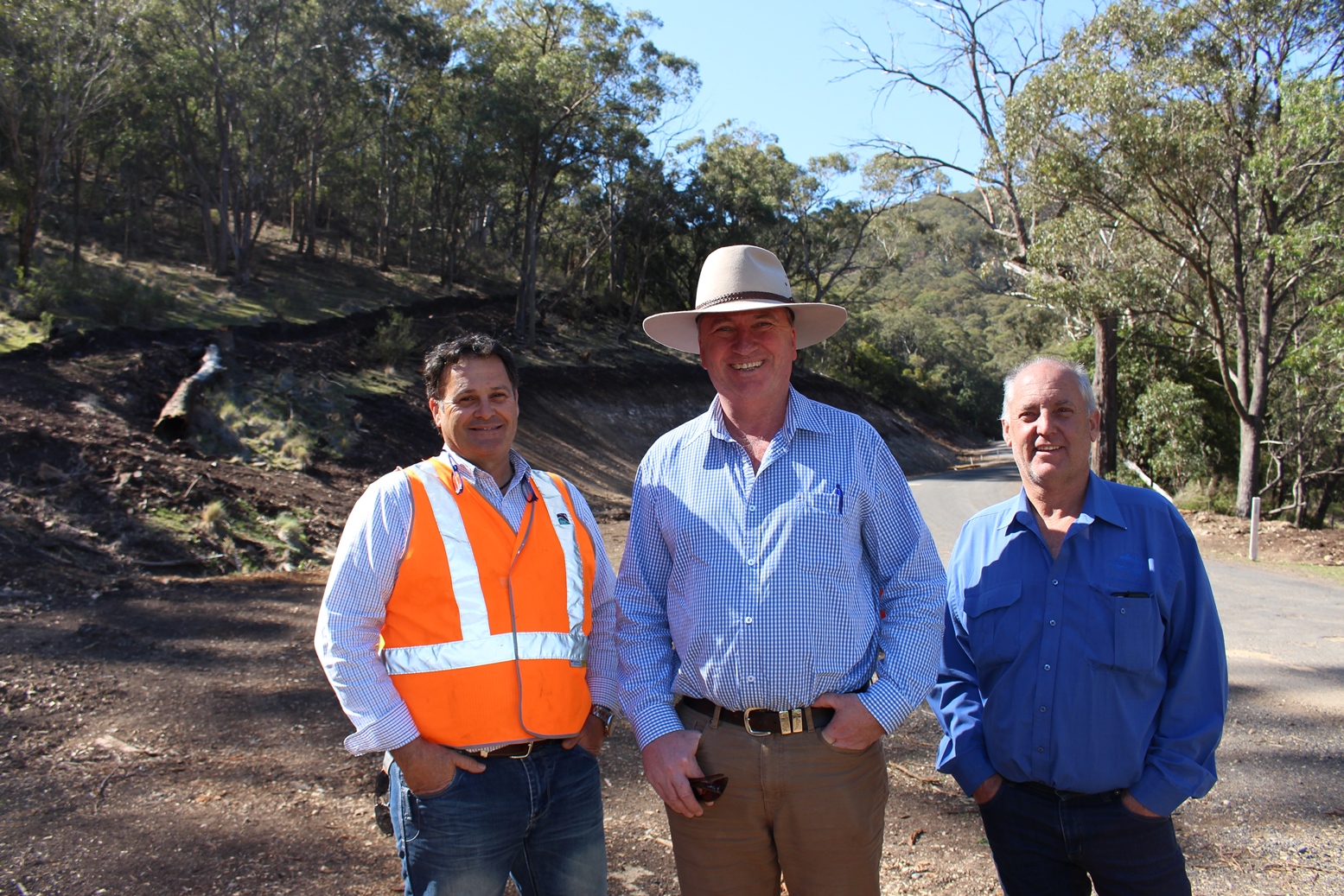 PICTURED: Upper Hunter Shire Mayor Wayne Bedggood, Member for New England Barnaby Joyce and Liverpool Plains Shire Mayor Andrew Hope at construction works on the Merriwa-Willow Tree Road.
Member for New England, Barnaby Joyce, has welcomed completion of the first stage of works for the $12.1 million upgrade of Merriwa to Willow Tree Road.
The Australian Government has committed $5.4 million toward the project as part of the Heavy Vehicle Safety and Productivity Program.
Upgrades so far have included widening and sealing works along 7.6 km of previously unsealed road, to accommodate the use of B-Doubles in the area.
The focus will now turn to Stage 2 of the project which includes widening and cutting of a 3km section over the Liverpool Range, which features a change in elevation of 200m and requires more than 35,000m3 of rock and earth to be moved.
"This is a huge project which is not only delivering safer roads for you and your family, it's providing a more direct route for heavy vehicles between the Golden and New England highways, cutting travel distances by about 44kms each way," Mr Joyce said.
"It is estimated costs to local cattle producers will be reduced from over $1500 a load to roughly $900 with local grain producers set to benefit substantially from this upgrade as well.
"During tough economic times of present due to drought, capital infrastructure like this is helping to drive investment and jobs back into local communities with at least 115 direct and indirect jobs generated by this road construction alone."
Funding for the Merriwa to Willow Tree Road upgrade is supported by $5.5 million from the NSW Government and $1.1 million from the Upper Hunter and Liverpool Plains shire councils. Construction is expected to be completed by August 2019.
The Australian Government has committed more than $408 million toward infrastructure projects across the New England electorate, including $65m for the Scone Bypass which is well underway.
(ENDS)