A PEN of Charolais steers that were the first lot auctioned at the 2013 opening of the Tamworth Regional Livestock Exchange and bought by Barnaby Joyce and Tamworth Regional Council Deputy Mayor Russell Webb were sold today in Tamworth for 181.2 cents a kilogram.
The six steers returned an overall price of $6537 with 10 per cent of the proceeds being donated to the Rise for Alex appeal. The appeal was in support of Newcastle Knight Rugby League player Alex McKinnon who was grievously injured in a game.
Mr Joyce, who was on the campaign trail for the seat of New England at the time of the saleyard opening, pitched in with Mr Webb to buy the steers at $800 each when the TRLX held its first sale on 28 June 2013.
Mr Joyce, who has changed his rugby league club allegiance to the Newcastle Knights since becoming the New England MP, said the donation to the Rise for Alex appeal was a thoroughly worthy cause.
"If Wayne Bennett [the Knights' coach] can change his club, then I can change too," Mr Joyce said.
"I played rugby with a mate, Greg Moran, who broke his neck when we were in the 15Bs, so Alex's plight is close to my heart."
Mr Webb said the six steers were fed hay during the dry times up until earlier this year when they were turned out onto grazing oats on his property for finishing.
Landmark Harcourts' Tamworth-based auctioneer, Scott Simshauser said the steers were bought by Ross Campbell on behalf of Scone-based Primo Australia.
"Primo are great supporters of the TRLX cattle sales," Mr Simshauser said
With a regular Monday sheep and cattle sale, together with fortnightly store cattle sales, the TRLX facility has yarded 126,371 cattle and 248,844 sheep with a total sale value of $71 million over the last year.
It employs almost 50 people every sale day and has significant flow on effects for the regional economy.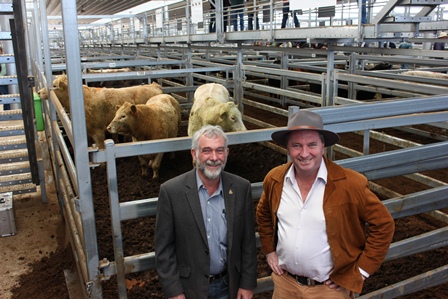 Tamworth Regional Council Deputy Mayor, Russell Webb and Member for New England, Barnaby Joyce with three of the six steers auctioned in Tamworth today. The steers made 181.2 cents a kilogram and 10 per cent of the proceeds will be donated to the Rise for Alex appeal in Newcastle.