A SPRING Ridge farming couple who are passionate about keeping the ancient skills of weaving alive are helping to share their knowledge as volunteers and were able to showcase their efforts to the Member for New England, Barnaby Joyce.
Fred and Marie Lawson have lived on "Jemajo" for 25 years, buying the 61-hectare property after renting the property next door for the previous five years.
It was about the same time when Fred heard that TAFE Gunnedah was running a course on weaving and this began a passion they call Crofters Cottage, which is now being shared with Malaysian nationals who take their learnings back to their home villages to pass on to other members of their community.
The Lawsons' link with Andante International Foundation happened more by chance when they were marketing some of the Highland cattle they breed.
"When the cattle buyers had made their selection I asked them to have a look at my shed," Fred said.
"They were gobsmacked when they saw our collection of looms and said we were exactly the kind of people they had been seeking to help pass on weaving skills."
Mr Joyce praised the work of the Andante Foundation and the Lawsons during his recent visit to Crofters Cottage.
He said extending the hand of friendship through teaching not only served those people learning the skills of weaving and other traditional crafts but it also laid a solid foundation for the future.
Last year two groups of Malaysian nationals visited the Lawson's Spring Ridge farm and another group is halfway through their two-week stay.
Fred said the visiting Malaysians also made a trip to Quirindi's heritage village, introducing them to artisans skilled in wood turning and black-smithing.
Andante International Foundation's President is Dr Mervvyn Koon, who said the organisation's aim is to train and equip the emerging generation in his country with skills in leadership through education, health and wellness, entrepreneurship, technology, social and community programs and activities.
His colleague, Joys Tan, is the president of Nation Building Pioneers Association who lamented the fact that skills like weaving were being lost as the world industrialised.
She said looms were bought to Borneo by the early British colonists but that craft or skill had withered away as the need for weaving had been taken over by industrialised fibre production.
"It seems everything is made in China these days, except for heaven and earth," she said.
At the end of the two week visit to the Lawson's Crofters Cottage, the Malaysians will take back two looms that have been broken down as excess luggage and rebuild them for teaching aids.
Dr Koon said traditional skills like weaving had proven more than useful in assisting children with autism in his own country.
"We've found a 100 per cent turn-around with children with autism who we teach skills like weaving," Dr Koon said.
Mr Joyce was able to present certificates to the visiting Malaysians acknowledging the work they'd done while on their two-week visit to the southern reach of his New England Electorate.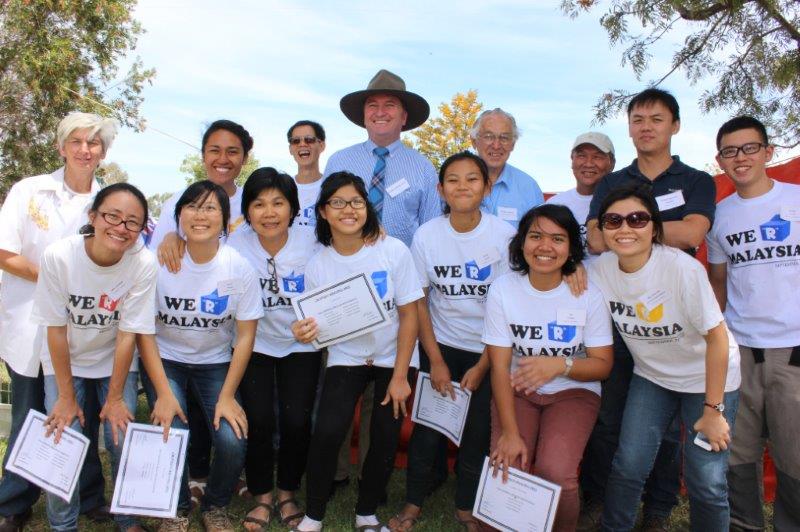 Member for New England, Barnaby Joyce with Marie Lawson [far left], Fred Lawson Centre and the visiting Malaysian group from Andante International Foundation.