10 October
A $50 million project that will secure water supply, drive prosperity and increase resilience in communities across the Tamworth region has commenced.
Federal Minister for Agriculture and Member for New England Barnaby Joyce, NSW Minister for Natural Resources, Lands and Water Kevin Humphries and Tamworth Regional Council Mayor Cr Col Murray today welcomed the commencement of the Chaffey Dam safety upgrade and augmentation by State Water Corporation.
Project funding includes $18.03M towards the dam safety upgrade component from the NSW Government, and $31.781M for augmentation which is funded by the Australian Government ($18.145M), the NSW Government ($9.668M) and Tamworth Regional Council ($3.968M).
Mr Joyce said the project will increase the storage's capacity from 62,000ML to 100,000ML to help secure the water supply for the city of Tamworth and Peel Valley water users.
"This project is an example of the water infrastructure investment needed to ensure regional Australia continues to grow and prosper," Mr Joyce said. "It also delivers on the $1.2 million I committed to help complete the project before the 2013 election."
"The Australian Government's Water Infrastructure Ministerial Working Group identified Chaffey Dam as a priority project and as Chair of the Working Group I am delighted to see construction for this vital project underway."
Mr Humphries said the Chaffey project will increase the supply of reliable and affordable water to the region and help drought-proof the city into the future.
"The NSW Government is committed to building the State's resilience to future droughts, and that commitment is being realised today with construction beginning on the Chaffey Dam augmentation," Mr Humphries said.
"Through this work, we are making sure our vital dam infrastructure is safe for the long-term and ensuring downward pressure on Peel Valley water prices by increasing over time the quantity of water available for trade."
Tamworth Regional Council Mayor Col Murray said Council had been working for years to see this project come to fruition.
"Tamworth and Peel Valley water users have been eagerly anticipating this project for years," Cr Murray said.
"In addition to improving water security for people in the Tamworth area, this project is expected to bring economic benefits to the region with a workforce of between
approximately 20 and 50 people required over the two-year construction period," he said.
CEO of Water NSW, the entity combining State Water Corporation and Sydney Catchment Authority, David Harris said construction was expected to be completed in mid-2016.
"Construction will involve raising the dam wall with a reinforced earth embankment and parapet wall and raising the morning glory spillway," Mr Harris said.
"The increased full supply level of the augmented dam will mean some roads, bridges and recreation facilities will need to be realigned or relocated.
"We have spoken to the community at length about this project through a comprehensive consultation process which will continue throughout construction to make sure any impacts are mitigated where possible."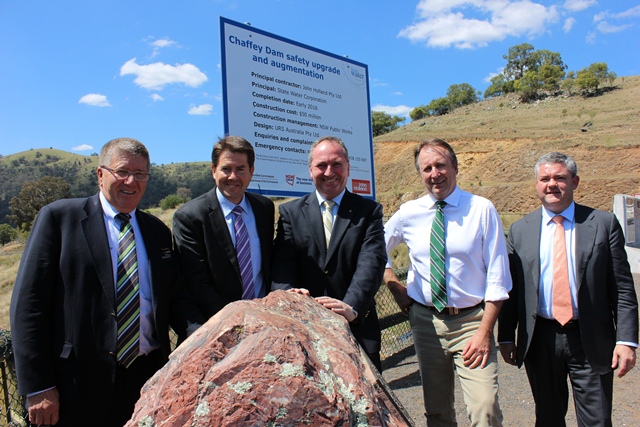 Tamworth Regional Council Mayor, Cr Col Murray, the Member for Tamworth, Kevin Anderson, the Minister for Agriculture and Member for New England, Barnaby Joyce, NSW Minister for Natural Resources, Lands and Water, Kevin Humphries and CEO of Water NSW, David Harris.