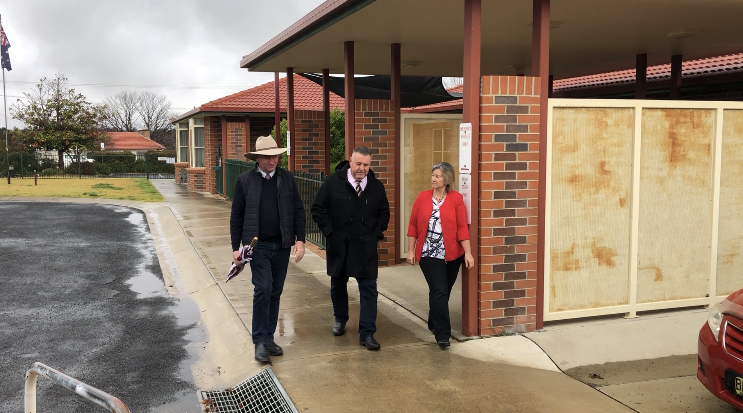 Pictured: Member for New England Barnaby Joyce, Uralla Shire Council Mayor Michael Pearce and McMaugh Gardens Aged Care Manager Christine Valencius.
Residents at McMaugh Gardens Aged Care in Uralla are now enjoying upgraded bathroom facilities following completion of recent refurbishments.
Member for New England, Barnaby Joyce, said $500,000 in works were funded under the Australian Government's Aged Care Regional, Rural and Remote Infrastructure Grant (ACRRRIG) Program.
A further $160,000 was drawn from the Drought Communities Extension Program, which is delivering $2 million to each and every council in the New England.
The upgrade included refurbishment of 23 ensuite bathrooms to offer residents access to more modern and private facilities and amenities.
"Senior Australians deserve the best quality aged care services we can provide," Mr Joyce said.
"Investing in new and improved infrastructure ensures the aged care system meets the needs of people in Uralla through increased care, support and protection."
Uralla Shire Council Mayor Michael Peace welcomed the addition of new facilities.
"On behalf of Council I'd like to thank the Member for New England, Barnaby Joyce for his support to the Uralla Shire community under the Australian Government's Aged Care Regional Rural & Remote Infrastructure Grant and Drought Communities Programme," Mayor Pearce said.
"It has been a challenging few months for our residents and staff at McMaugh Gardens and I am pleased to hear the residents are happy with their new ensuites and the project was completed ahead of schedule with minimal disruption."
The ACRRRIG program supported 117 services in regional, rural and remote regions to improve access and quality of aged care services.
The funding has assisted services where they have been constrained by their location, higher costs and inability to invest in infrastructure.
(ENDS)