More than $13 million in infrastructure projects across Tamworth and the Upper Hunter have been funded under Round 5 of the Australian Government's Bridges Renewal Program (BRP) and Round 7 of the Heavy Vehicle Safety and Productivity Program (HVSPP) to help kick-start the local economy and provide more jobs in the region.
Federal Member for New England, Barnaby Joyce, said the new investment included $2 million in federal funding to upgrade and widen the Moonbi to Hallsville Road, $1.095 million to replace Retreat Bridge over the MacDonald River, $582,500 to replace Fishers Bridge over the Peel River in Tamworth and $437,500 to replace Benama Bridge over Goonoo Goonoo Creek also in Tamworth. All these projects will be delivered by Tamworth Regional Council.
A further $2.5 million in Australian Government funding will be provided to Transport NSW for the Oxley Highway-Goddard Lane Intersection Upgrade. This will provide an acceleration lane for westbound heavy vehicle leaving Goddard Lane. While $2.5 million has been allocated for the Lily Creek culvert upgrade on the New England Highway between Bendemeer and Uralla, helping to improve the flood immunity of the Lily Creek Culvert.
In the Upper Hunter, an additional $2 million will be provided to Upper Hunter Shire Council for road realignment and widening of the Naracoorte to Glenmore Bridge section of Hunter Road and $2 million for the rehabilitation of Coulsons Creek Road.
"This is real delivery for Tamworth and the Upper Hunter, providing safer roads and better bridges as well as more employment and added economic stimulus for the region during the construction phases," Mr Joyce said.
"The funding will allow us to fast-track high-priority infrastructure projects, providing a much-needed boost to local jobs and the local economy.
"Every single local job we support in Tamworth, the Upper Hunter and the New England by investing in infrastructure projects means one less worry for another Australian and their family, reliable work on the books for local construction companies and more cash flowing through local businesses and communities doing it tough."
Tamworth Regional Council Mayor Col Murray said the funding would be a great boost for the region.
"This funding announcement is great news for the Tamworth region and it will provide numerous benefits for many people. We are appreciative for every single dollar that is being invested in our region at this time, in particular that which is invested in infrastructure and that which helps bolster our local economy," Cr Murray said.
Upper Hunter Shire Mayor Maurice Collison thanked the Federal Government for investing in essential transport routes.
"Safer roads are a top priority for regional areas and these projects bring short and long term financial returns," Cr Collison said.
Deputy Prime Minister and Minister for Infrastructure, Transport and Regional Development Michael McCormack said these latest rounds would support 350 projects across the nation.
"I am pleased to deliver more than $290 million in funding to more than 350 projects nationwide, which will upgrade and replace bridges which have been damaged or are deteriorating and improve key heavy vehicle infrastructure," Mr McCormack said.
"With nearly 80 per cent of this funding going to local councils, the outcome of these rounds will support local workers, households and businesses through a difficult time and position the Australian economy for a strong recovery.
"By improving our road network this funding will also help keep people safe on our roads while making key freight routes more efficient, delivering long-term benefits to drivers, businesses and local communities.
Assistant Minister for Road Safety and Freight Transport Scott Buchholz said 50 per cent of this funding would benefit communities impacted by the ongoing drought and earlier bushfire events.
"$146.97 million in funding through these rounds will go to councils affected by bushfires, drought or both – providing secure work for local construction contractors and businesses who have felt the cumulative impact of these events and now COVID-19 while delivering lasting infrastructure that will benefit the region for years to come," Mr Buchholz said.
"This includes livestock transport industry projects that will directly support communities currently impacted by drought, being funded under Round 7 of the HVSPP.
"Round 5 of the BRP also provides an opportunity for many councils to begin the process of replacing or upgrading bridges damaged in bushfire events, both rounds demonstrating our steadfast commitment to continue to stand side by side with these communities doing it particularly tough."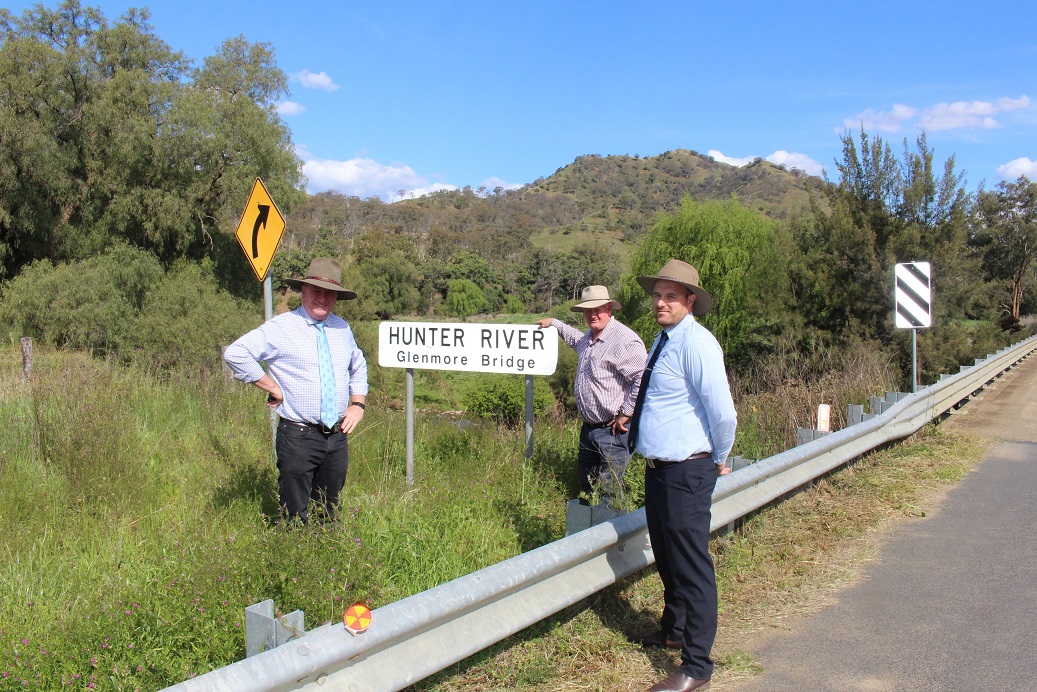 Pictured: Member for New England Barnaby Joyce, Upper Hunter Shire Council Mayor Maurice Collison and Director of Infrastructure Nicholas Havyatt, at Glenmore Bridge where the Hunter Road upgrade will start.
(ENDS)