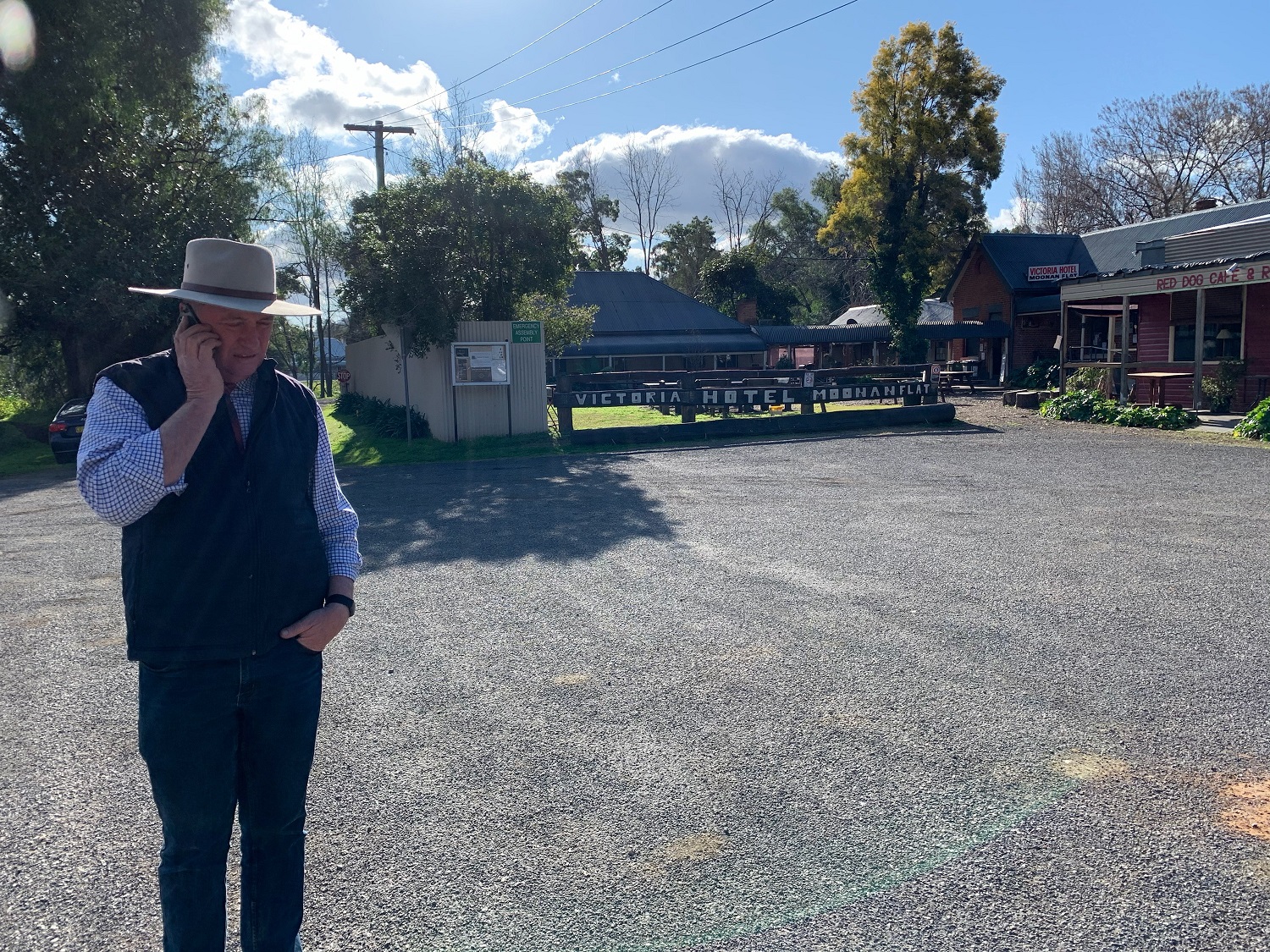 Pictured: Mr Joyce testing the new mobile coverage at Moonan Flat.
People living and travelling through Moonan Flat will now have better phone service to make calls, browse the internet and stay connected with family and friends, thanks to the Federal Government's Mobile Black Spot Program (MBSP).
The new mobile base station being turned on this week will significantly improve phone service along Hunter Road in the Upper Hunter township.
Member for New England, Barnaby Joyce, said he was pleased that more local residents and businesses would now have better service.
"My constituents have raised the need for mobile coverage in the Upper Hunter and I'm pleased to be part of a Government that is listening and delivering," Mr Joyce said.
"The new small cell mobile base station was completed by Telstra and is the latest of 45 sites across the New England to receive new or improved mobile coverage under the program.
"I know how much this service means for the Post Office, the pub and café in the village.
"It not only helps local people run their businesses, it also keeps us safe and connects the furthest reaches of our electorate.
"This is real delivery for people in the Upper Hunter and New England."
Minister for Communications, Cyber Safety and the Arts the Hon Paul Fletcher MP said the switch on of the new mobile base station at Moonan Flat reflects the Coalition Government's commitment to further improving connectivity in the regions.
"This significant investment as part of the Mobile Black Spot Program means that people living, working and travelling in the New England will now have better mobile coverage. This is especially important following this summer's devastating bushfires," Minister Fletcher said.
"The first five rounds of the Mobile Black Spot Program are funding 1,229 mobile base stations around Australia, with more than 850 of these already on air and providing much needed mobile connectivity to rural and regional areas."
Minister for Regional Communications, Regional Health and Local Government, the Hon Mark Coulton MP, said the Coalition Government is committed to improving connectivity for people living in regional and rural areas.
"The improved service is thanks to the Liberal and Nationals Government's $380 million Mobile Black Spot Program, which is eradicating phone black spots across the New England," Minister Coulton said.
"This Government knows how frustrating it is to be talking on the phone or browsing the internet and then lose service, so we're getting on with the job of building more phone towers to deliver better service."
The Telstra small cell at Moonan Flat is the 853rd MBSP base station to be switched on, and the 34th in the New England electorate. It was jointly funded by the Commonwealth and Telstra under Round 4 of the MBSP.
More information about the program is available at www.communications.gov.au/mbsp
(ENDS)