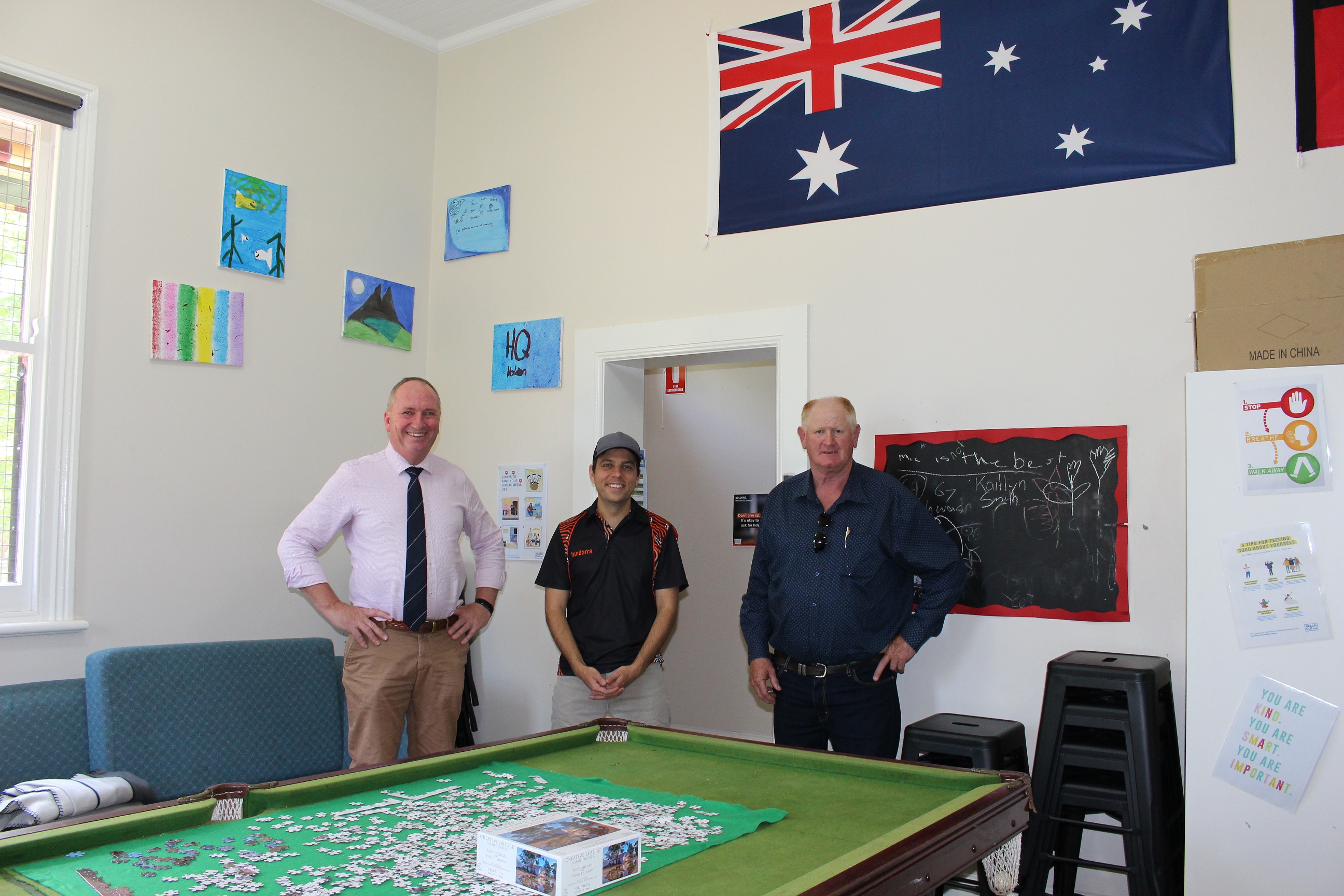 PHOTO: Pictured with Andrew Murray from Merriwa Youth Centre and Upper Hunter Shire Mayor Maurice Collison. The Youth Centre has been refurbished through funding provided by the Federal Government.
The Merriwa community is benefiting from recent Australian Government funding which is supporting New England communities recover from the economic hardships endured during drought, bushfire and now COVID-19.
Recent infrastructure developments include an upgrade to Merriwa Youth Centre, refurbishment of the town tennis courts, as well as new shade sails and barbecue area at the swimming pool – all form part of the Federal Government's $2 million investment in the Upper Hunter through its Drought Communities Program.
Member for New England, Barnaby Joyce, was in Merriwa on Friday to see first-hand how the new projects were making a difference in the community.
"Not only are these projects supporting local jobs, trades and suppliers during construction, the finished infrastructure is delivering a lasting legacy for the people of Merriwa for generations to come," Mr Joyce said.
The Australian Government is also providing $2.4 million in stimulus funding to Upper Hunter Shire Council under the Local Roads and Community Infrastructure Program to help the Shire bounce back from the COVID-19 pandemic.
Additionally, the Government's Roads to Recovery Program is also providing $7.3 million in funding to Upper Hunter Shire Council until the 2023-24 financial year.
While in town, Mr Joyce also stopped by Merriwa Men's Shed which recently received a grant for new equipment.
"It is important we do regular activities with the people around us, and our men's sheds like at Merriwa, play a key role in supporting the health and wellbeing of people in the community," he said.

(ENDS)