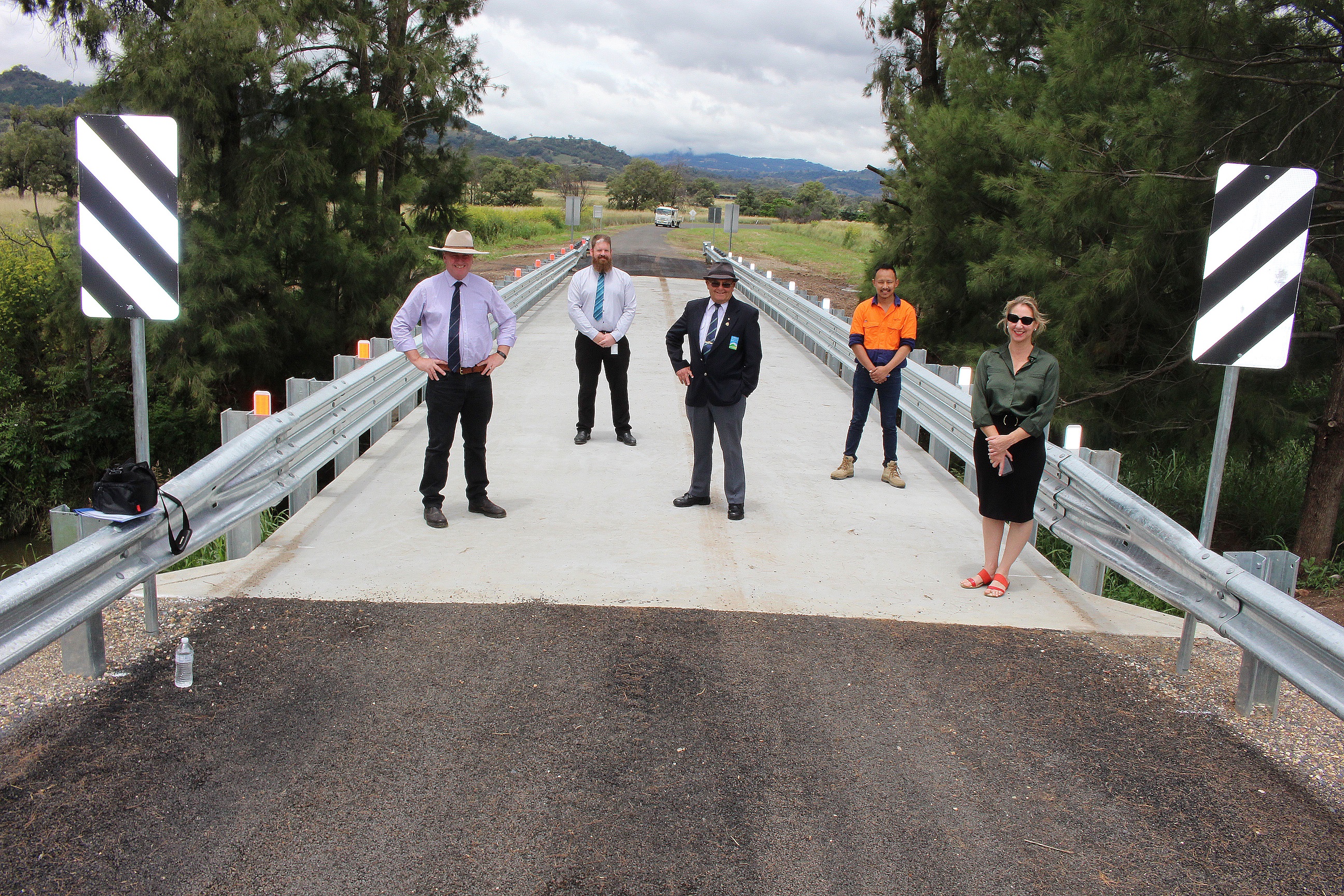 Pictured: Member for New England Barnaby Joyce with Liverpool Plains Shire Council's Director of Engineering Services Nathan Skelly, Liverpool Plains Shire Council Mayor Doug Hawkins, Project Engineer Rajesh Lama and Liverpool Plains Shire Council General Manager Joanne Sangster officially opening the new Glenyalla Bridge at Willow Tree.
Member for New England, Barnaby Joyce, joined Liverpool Plains Council on Tuesday to mark the official opening of Glenyalla Road Bridge near Willow Tree.
The $865,000 project was supported by a $432,500 federal grant to council under Round 4 of the Australian Government's Bridges to Renewal Program.
Mr Joyce said the new bridge will not only benefit local residents, it will enable Glenyalla Road to be again used as an alternative route to the New England Highway.
"If the highway is closed due to a crash or for some other reason, this bridge will help keep highway traffic flowing and because of its high mass limit, heavy vehicles can safely use this route as well, making sure we're getting our produce and freight to their destinations and keeping our economy moving ahead," Mr Joyce said.
Liverpool Plains Shire Council Mayor, Councillor Doug Hawkins OAM, said council was very grateful for the Federal Government's support of the project which will provide greater road access for the community for generations to come.
"This bridge is important to farming families, as a rural transport route and for those delivering to or collecting from properties enroute. The new bridge will reopen the route, from Kankool to the Merriwa Road near Willow Tree, to through traffic for local people who live along Glenyalla Road and provides unrestricted access for heavy vehicles and a useful life of at least 100 years," Cr Hawkins said.
The new Glenyalla Road bridge crossing of Borambil Creek replaces an old wooden bridge which suffered structural failure with a new, single lane, concrete structure built to current Australian standards.
(ENDS)