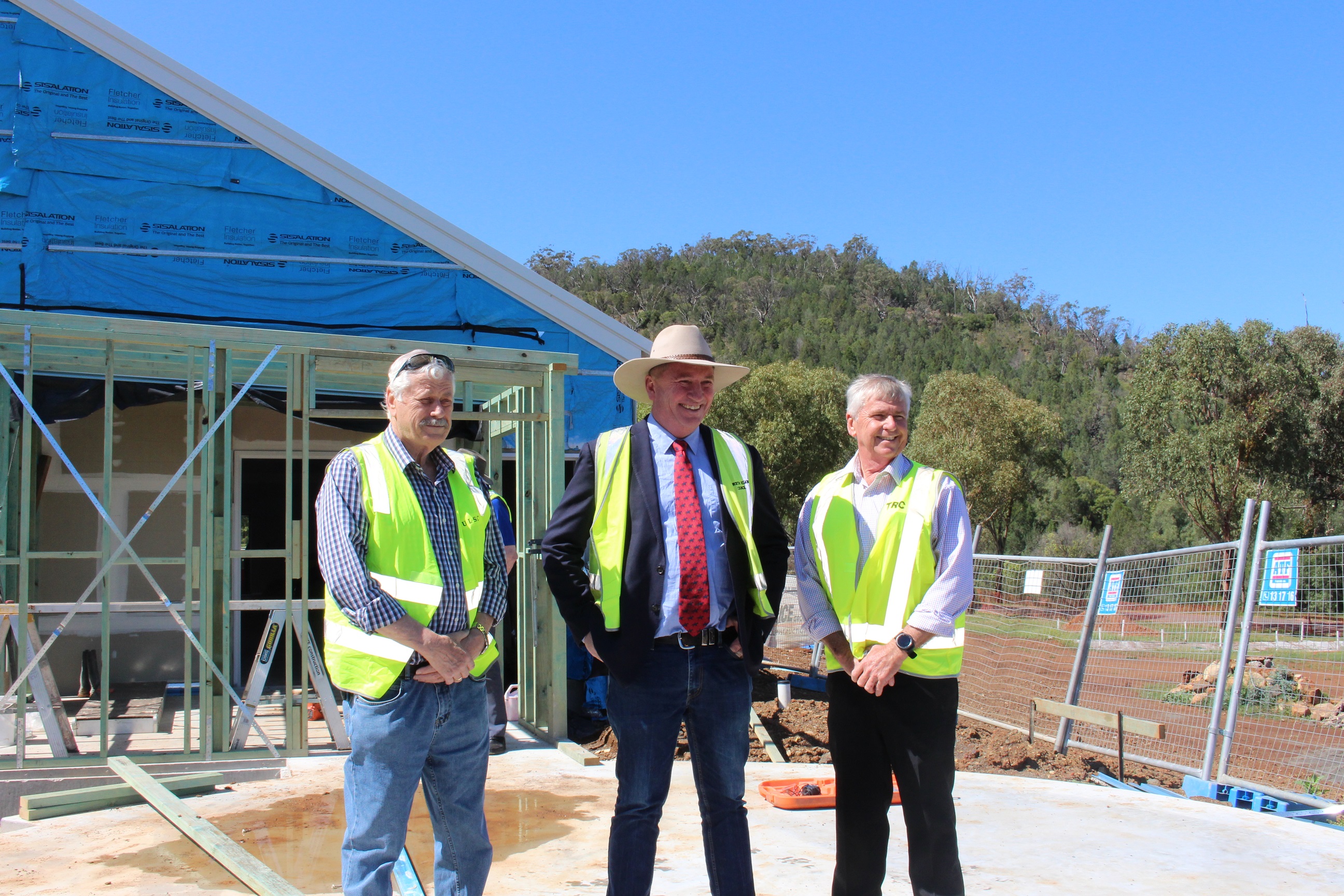 Pictured: Member for New England, Barnaby Joyce, with Tamworth Regional Astronomy Club's Garry Copper and Tamworth Regional Council Deputy Mayor, Phil Betts, touring ongoing construction at the Tamworth Regional Astronomy and Science Centre which has received funding for two new additions.
A $460,000 grant from the Australian Government will fund two additional buildings as part of the new Tamworth Regional Astronomy and Science Centre.
They include the Hewitt Observatory to house the Hewitt Camera, one of only two telescopes of this type in the world and the Planetarium-Observatory, a purpose-built theatre to educate and inform the public and schools at live viewing and educational sessions. These two additional buildings will be adjacent to the centre now under construction.
Member for New England, Barnaby Joyce, said funding for the project was being provided to Tamworth Regional Council under the Australian Government's $500 million Local Roads and Community Infrastructure Program that was assisting local government councils across Australia to support local jobs, businesses and local economies struggling under the effects of COVID-19.
"This is great news for the people of Tamworth and indeed, the wider New England North West region," Mr Joyce said.
"The centre's construction is not only providing jobs and driving money back into our local economy at a time when we need it most, it will also deliver an impressive astronomy and science centre the community can feel proud of for years to come."
Tamworth Region Mayor Col Murray said that Council is pleased that the vision of the Tamworth Regional Astronomy Club is now fully funded and construction can move forward.
"We would like to thank the Australian Government for supporting this project, and we look forward to welcoming visitors and researchers from far and wide once it is complete," Cr Murray said.
The recent funding followed a $1.804 million grant from the NSW Government to Council in 2018, a further $105,000 from Council as well as $40,000 from Tamworth Regional Astronomy Club and $38,000 in-kind contributions.
Construction of both buildings were expected to be complete by early next year.
Fast facts:
Hewitt Observatory
• The Hewitt Observatory will be designed with a split roll-off-roof which will provide full access to all areas of the sky to show at events for club members and visitors.
• The primary mirror of the Hewitt Camera is 34 inches and the whole camera weighs more than eight tonnes.
• The camera has significant historical value and was designed and constructed in England in the early 1960s.
• The camera was used to track satellite orbits and provide information on the earth's gravitational field until 1990.
• There are only two cameras of this type in the world. The other camera can be found at The Observatory Science Centre in Herstmonceux, England.
• The club's Hewitt Camera was recommissioned and upgraded to digital imaging capabilities by the Tamworth Regional Astronomy Club in 2016. It is now the only operational Hewitt Camera in the world.
Planetarium-Observatory
• The planetarium will be used to educate and entertain the public and schools at live viewing and educational sessions.
• The planetarium will have a round rotating observatory dome that can be used to project video onto the inner dome as a planetarium format but can also be changed over to fit a large functional telescope for a viewing session.
(ENDS)