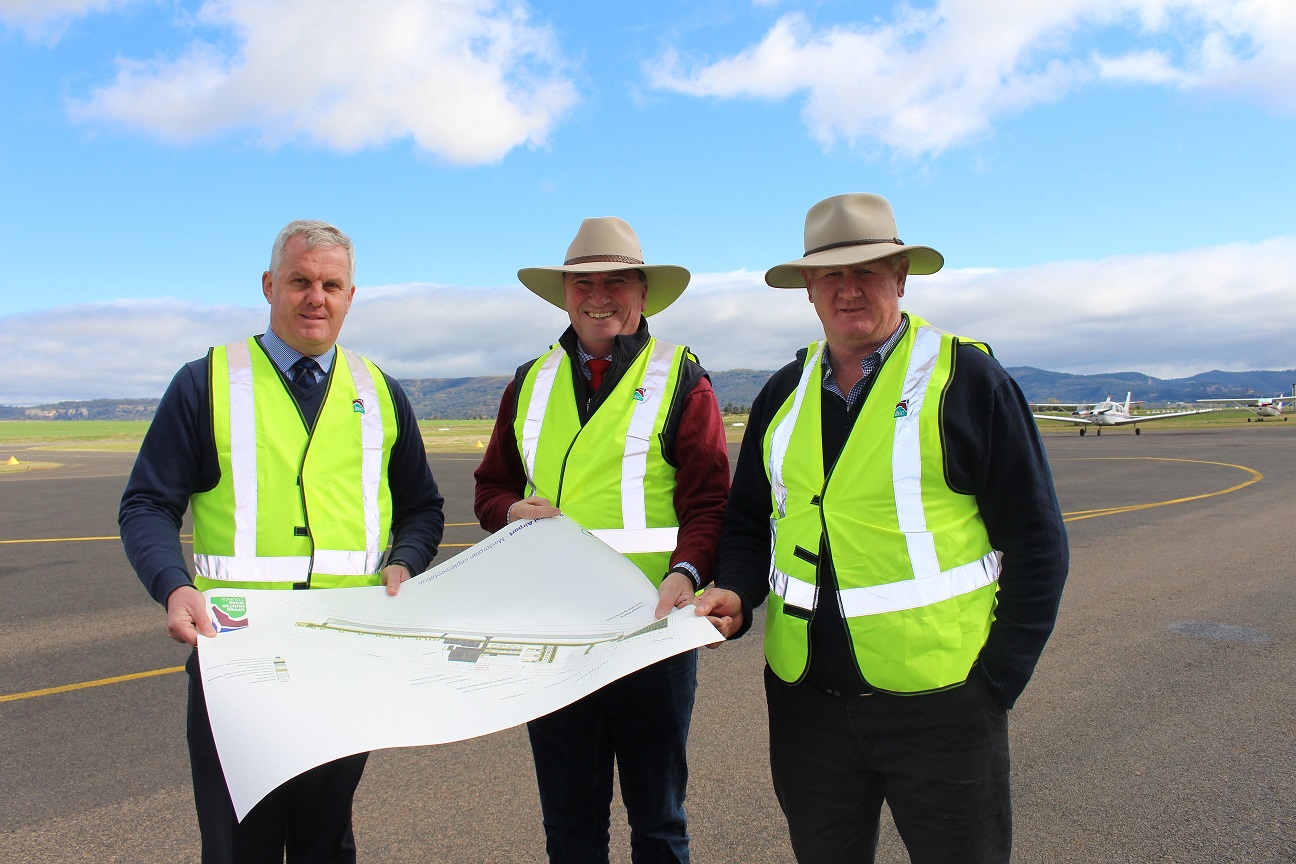 Pictured: Upper Hunter Shire Council General Manager Steve McDonald, Member for New England Barnaby Joyce and Upper Hunter Shire Council Mayor Maurice Collison viewing design plans for the infrastructure upgrade at Scone Airport.
Member for New England, Barnaby Joyce, says $3 million in new funding for Scone Airport will help secure the region as a premier regional destination.
The grant was recently awarded to Upper Hunter Shire Council under the Australian Government's $41.2 million Regional Airports Program.
"The role airports like this have in supporting regional communities throughout the New England cannot be understated," Mr Joyce said.
"This further investment for crucial infrastructure at Scone will help keep aircraft flying, businesses in trade and emergency services with the facilities they need to keep us safe."
The new funding in airside infrastructure at Scone formed part of $5.8 million in grants for New England airports including Tamworth, Armidale and Inverell.
It also complemented previous Federal and State Government funding support for the Scone Airport's Aviation Visitor Attraction as well as a $20,000 grant for Scone Aero Club under the Australian Government's Stronger Communities Program.
"Clubhouse refurbishments are well on their way at the aero club which when complete will be a massive boost for the community members who use this facility regularly," Mr Joyce said.
Project detail:
$3 million - Scone Regional Airport Upgrade - Airside Infrastructure Component: The overall viability of the aerodrome hinges on the immediate completion of runway reconstruction and resealing and taxiway and apron extensions and upgrades to continue to cater for GA, RFSD and other emergency services operators. The airport, without major safety upgrades to its infrastructure, would lose its certified airport status and revert to recreational use. The airport is frequently used for all Upper Hunter emergency services air operations.
(ENDS)