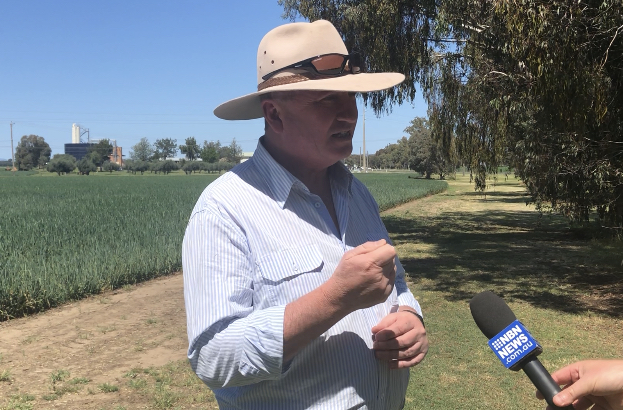 Member for New England, Barnaby Joyce, is calling on the NSW Government to extend its support to local farmers and match the Australian Government's additional $50 million commitment for the On-farm Emergency Water Infrastructure Rebate Scheme.
The rebate could be used to drill new bores, desilt dams and provide more piping for livestock producers and horticulturalists with permanent plantings.
It follows extensive advocacy by Mr Joyce and more than 20 representations on behalf of his constituents to have the fund extended.
"The Australian Government delivered on this investment before and now we're delivering again to support our farmers," Mr Joyce said.
"As we are in the state of NSW, we also expect the full support of the government of NSW.
"We have $50 million on the table for this fund and the State is equally responsible for provision of this outcome so they must match it.
"This water infrastructure program has been one of the most popular and well supported programs in the farming sector.
"There are three essentials when you take on a farm. Number one is the kitchen or you don't eat, number two is water or stock don't drink and three is fencing or you don't know where the stock are.
"It's expensive but if you run out of water you've got big problems."
Minister for Resources, Water and Northern Australia, Keith Pitt said the Australian Government had made the additional $50 million available this financial year so farmers could maintain animal welfare, keep trees alive and emerge from drought with better tools to help them drive profitability and productivity.
"This investment in our farmers provides rebates of up to 25 per cent of eligible infrastructure costs, capped at $25,000," Minister Pitt said.
"Across the country there are currently more than 2000 applications that will miss out on funding if we didn't make this additional funding available, because the scheme is over subscribed.
"Many of my colleagues, Federal counterparts and farmers, have been clear they'd like the scheme extended – and we're delivering that.
"My intention is to make this support work even harder by partnering with the states and territories who must match the Commonwealth funding for eligible on-farm water infrastructure projects."
(ENDS)