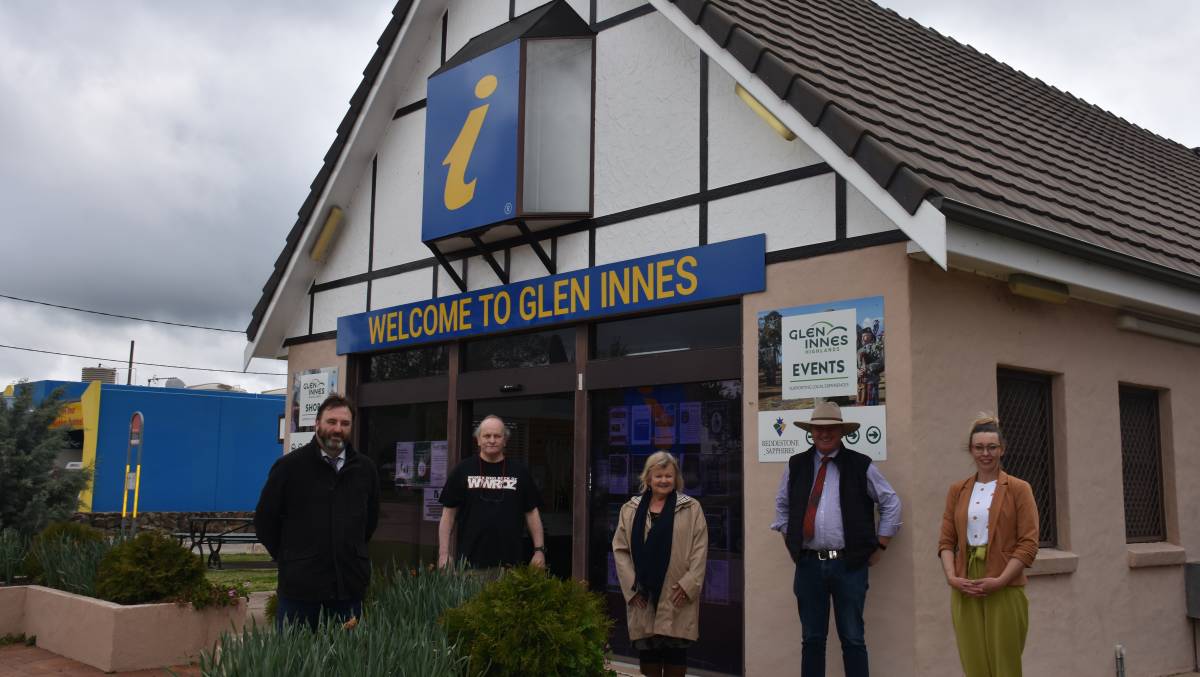 Pictured: Glen Innes Severn Council General Manager Craig Bennett, GlenFest and GlenRock organiser Derek Foley, Glen Innes Severn Council Mayor Carol Sparks, Member for New England Barnaby Joyce and Glen Innes Severn Council's Manager of Economic Development Margot Davis on announcement of the Australian Government funding.
The Australian Government has announced more than $500,000 in funding for 12 projects and events across the New England to boost domestic visitors in the region following last summer's bushfires and the COVID-19 pandemic.
Member for New England, Barnaby Joyce, said the funding formed part of the government's $10 million Regional Tourism Bushfire Recovery Grants program.
"Already we've heard plenty of good news stories about local tourists choosing to take their 'stay-cation' here in the New England, shopping local and keeping their money local as well," Mr Joyce said.
"This funding will complement that and serve as a real boost to many of our bushfire-affected communities.
"This is real delivery for the people of New England."
The Glen Innes community received funding for six projects and events, including $145,000 for its Escape to Play "Escape Room" Visitor Attraction.
Glen Innes Severn Council General Manager Craig Bennett welcomed the government investment.
"It is pleasing to see such a significant commitment by the Federal Government to the New England region, and that Glen Innes Severn Council's Local Government Area is included in the support package announced. Our iconic tourism events will appreciate the injection of funding which will assist these events in coping with the current challenges," Mr Bennett said.
Glen Innes Mayor Carol Sparks said the new funding will be a great boost for the Shire.
"The bushfires, along with the Coronavirus pandemic and the drought, have given the New England a succession of tough times which the Federal Government has recognised as requiring support. On behalf of the community I'd like to thank Barnaby Joyce MP for championing for funding assistance that will help keep the tourism industry more buoyant from here towards recovery," Cr Sparks said.
Federal Tourism Minister Simon Birmingham said the aim of the grants was to encourage tourists back into fire-affected communities.
"Many regional communities impacted by the fires are still doing it tough – but there is light at the end of the tunnel," Minister Birmingham said.
"It's great to see millions of dollars in funding flow to the regions. There are some fantastic events planned and projects that will serve these communities as popular tourist attractions for many years to come.
"With international travel restrictions in place, I'd encourage more Australians to plan a road trip or a short getaway to a regional area.
Assistant Minister for Regional Tourism Jonno Duniam said the grants would help to revive the regional tourism industry.
"There are many regional businesses that were hit hard by the catastrophic summer bushfires and the COVID 19 pandemic," Assistant Minister Duniam said.
"A number of events in fire-affected regions were postponed or cancelled due to travel restrictions forced by the pandemic.
"As restrictions begin to ease, these grants will help communities get back on their feet by supporting local jobs and local economies."
The Regional Tourism Bushfire Recovery Grants program forms part of the Morrison Government's $76 million tourism recovery package to help get the tourism industry back on its feet.
The grants program was developed in consultation with the National Bushfire Recovery Agency and is being administered by Austrade.
Funded projects and events in the New England include:
• $230,680 - New England High County (NEHC) National Park Soundtrails Visitor Attractions and Promotion which features four new Soundtrails for the following national parks: Apsley Falls, Walcha; Wollomombi Falls, Armidale; Washpool NP, Glen Innes; Bald Rock NP, Tenterfield. Funding also includes a promotional campaign for the soundtrails for NEHC Tourism Group.
• $145,000 - Escape to Play Visitor Attraction - Funding will be used to create a new 'escape room' attraction in the local area based on off-the-shelf game options.
• $145,000 - The Armidale Spring Games - The Armidale Spring Games will be a combined hockey, netball, and soccer weekend-long tournament and sporting event. Grant funding will cover the operational costs of the event.
• $145,000 - Art Installations Tenterfield Creek - Multiple art installations strategically placed along the Tenterfield Creek walking track. Signage and interpretive boards will also be placed with the art installations and along the path providing information on the artwork and the area.
• $20,000 Inverell Sapphire City Festival: A 10-day festival with activities for the whole family, culminating in a finale with a festival parade, carnival and fireworks. Grant funding will be used for an entertainer/artist as a feature for the festival, advertising and fireworks.
• $20,000 - Walcha Motorcycle Rally - An annual grassroots event for motorcycle enthusiasts. Grant funding will be used to enhance marketing activities.
• $20,000 Armidale Beer & BBQ Festival - A new festival celebrating local produce and the agricultural sector. Grant funding will support marketing and promotion of the event.
• $20,000 - Peter Allen Festival - A celebration of the music and achievements of Peter Allan. Grant funding will assist with marketing and promotion and entertainment costs.
• $20,000 – GlenRock – A Glen Innes-based music festival aimed at youth to be held in 2021.
• $10,000 – GlenFest - A four-day festival of music featuring a free concert for older persons, a school holiday youth workshop and charity concerts. The 2021 event will also feature the GlenFest Arts Prize.
• $10,000 Glen Innes Australian Celtic Festival - A unique four day festival celebrating Celtic ceremonies and spectacles. Grant funding will be used to support marketing of the Festival via television and digital channels.
• $10,000 Glen Innes Minerama Fossicking, Gem & Jewellery Show: Australia's largest annual gem and jewellery show, attracting visitors and dealers from all over Australia. Grant funding will be used to assist with marketing and promotion.

(ENDS)