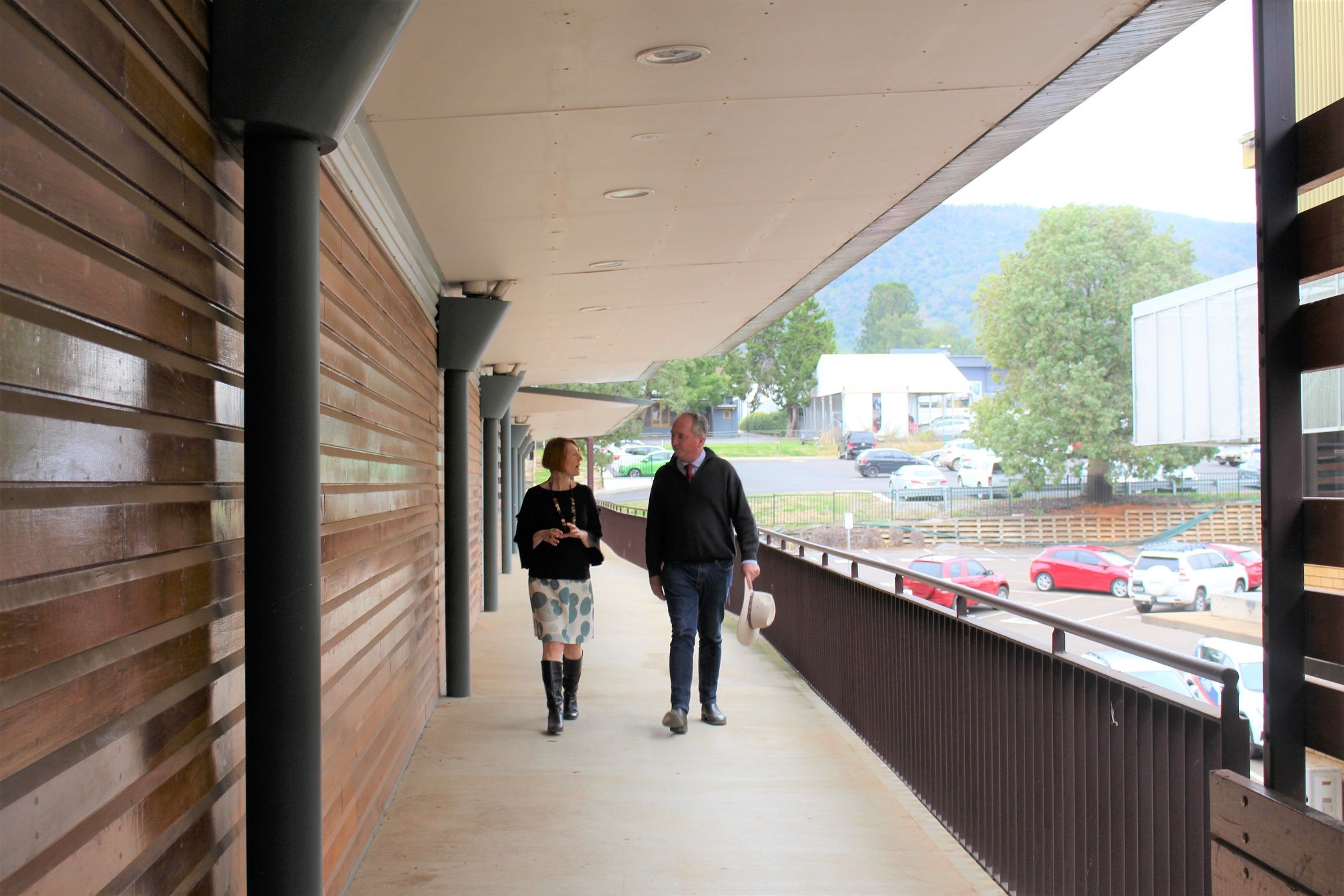 Pictured: Mr Joyce talking with Tamworth Regional Gallery Director Bridget Guthrie about plans for the new funding.
Minister for Communications, Cyber Safety and the Arts, the Hon Paul Fletcher MP and Member for England, Barnaby Joyce, have announced funding for Tamworth Regional Gallery through the Visions of Australia regional exhibition touring program.
"I am pleased to announce Tamworth Regional Gallery has received $47,465 for its project Tensions 2020: Tamworth Textile Triennial, through the latest round of the Government's Visions of Australia program, enabling them to plan and prepare to take their exhibition on tour," Mr Joyce said.
"The project will showcase the work of more than 25 artists through a survey of Australian textile practice with Augmented Reality extending audience experiences.
"If there is one thing COVID-19 has shown us, it's how we all can more effectively navigate the digital world.
"This exhibition is a perfect example, using augmented reality and social media to engage new online audiences with traditional artwork practices."
The Coalition Government's funding of more than $1.1 million through the Visions of Australia program will support cultural exhibitions to tour regional venues across Australia in the future.
Minister Fletcher said the Government is focused on supporting the creative and cultural sector to recover and return as and when health advice allows the easing of social distancing requirements in place to deal with COVID-19.
"Australia's cultural sector has proven itself to be innovative and resilient over the very challenging last few months and I look forward to the time when we can once again come together to attend cultural events in person. The projects enabled by the Visions of Australia program will help support local jobs, tourism and a sense of community as we begin to recover from the pandemic," Minister Fletcher said.
The Visions of Australia program funds the development and touring of arts and cultural exhibitions, with a focus on increasing arts access for Australians living in regional and remote areas.
The Coalition Government's arts policies are delivering creative content and cultural experiences that reflect our rich and diverse history, culture and identity, for the benefit of all Australians. Through record investment in the creative and cultural sector, the Government supports a $112 billion industry that employs more than 600,000 Australians and supports social cohesion, mutual understanding and stronger communities.
(ENDS)