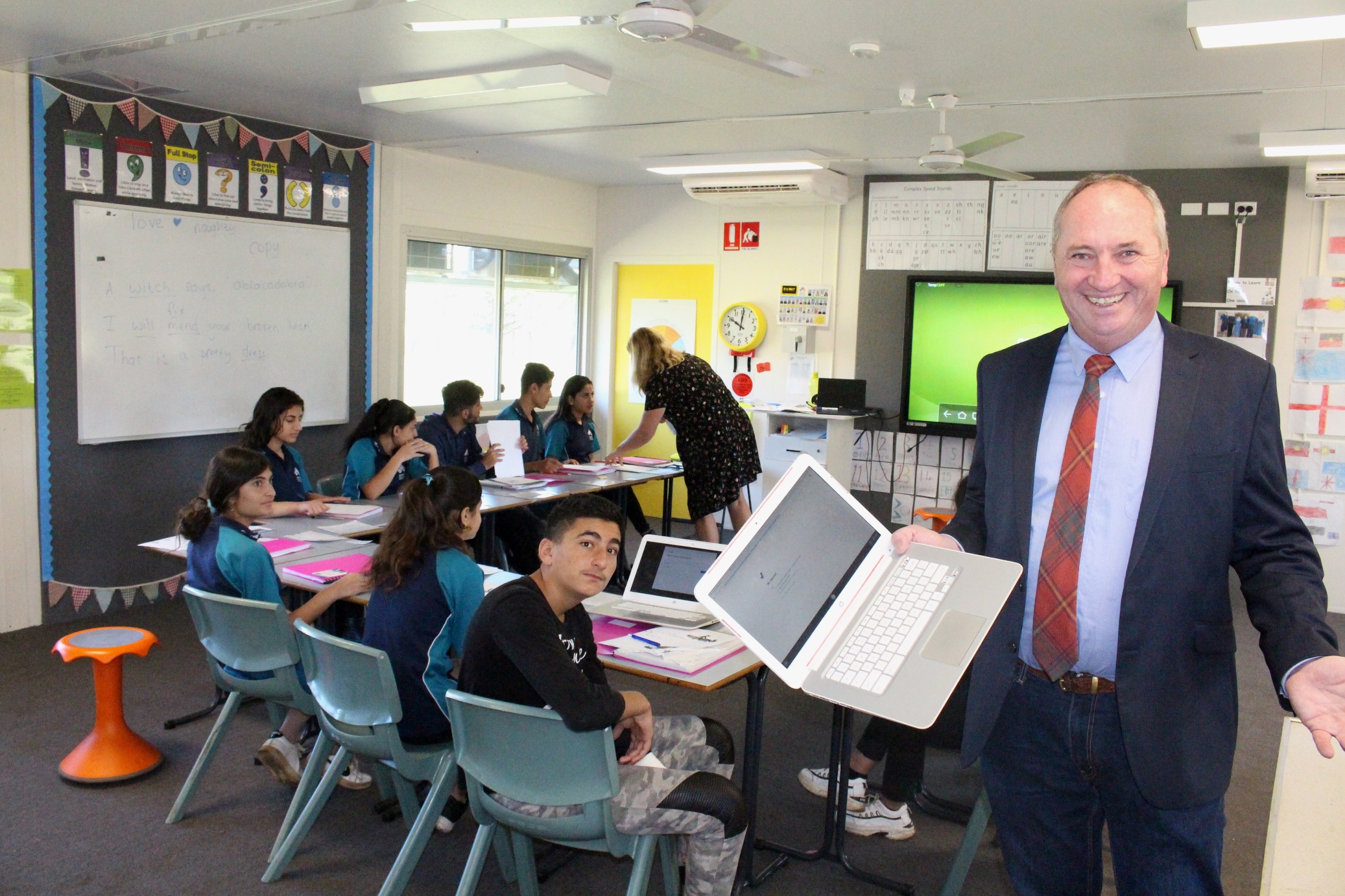 Pictured above and below with Ezidi students from Armidale Secondary College on announcement of the Local Schools Community Fund grants.
Member for New England, Barnaby Joyce, announced a $200,000 investment in 12 projects for schools throughout the electorate.
Funding is being provided under the Federal Coalition Government's $30.2 million Local Schools Community Fund.
Recipients include Armidale Secondary College which is receiving a $16,849 grant to purchase new laptop computers to assist refugee students, including more than 100 Ezidi students at the school, develop increased English proficiency.
"We know the important role that schools play in our communities, big and small, across the New England," Mr Joyce said.
"That's why we're funding a range of projects that will make a real difference for students.
"School communities in the New England nominated projects they wanted most and we delivered with funding support through the Local Schools Community Fund.
"This is additional investment on top of our record funding of $310 billion for schools.
"These local school projects will go a long way in helping our students and the local school community in the New England."
Armidale Secondary College Principal Carolyn Lasker said the new technology will greatly assist with language acquisition for refugee students.
"This grant will make a tremendous difference to our Ezidi students who are so eager to learn," Carolyn said.
"These class laptops will be a great resource that will support our increasing number of newly arrived refugee students to access the curriculum."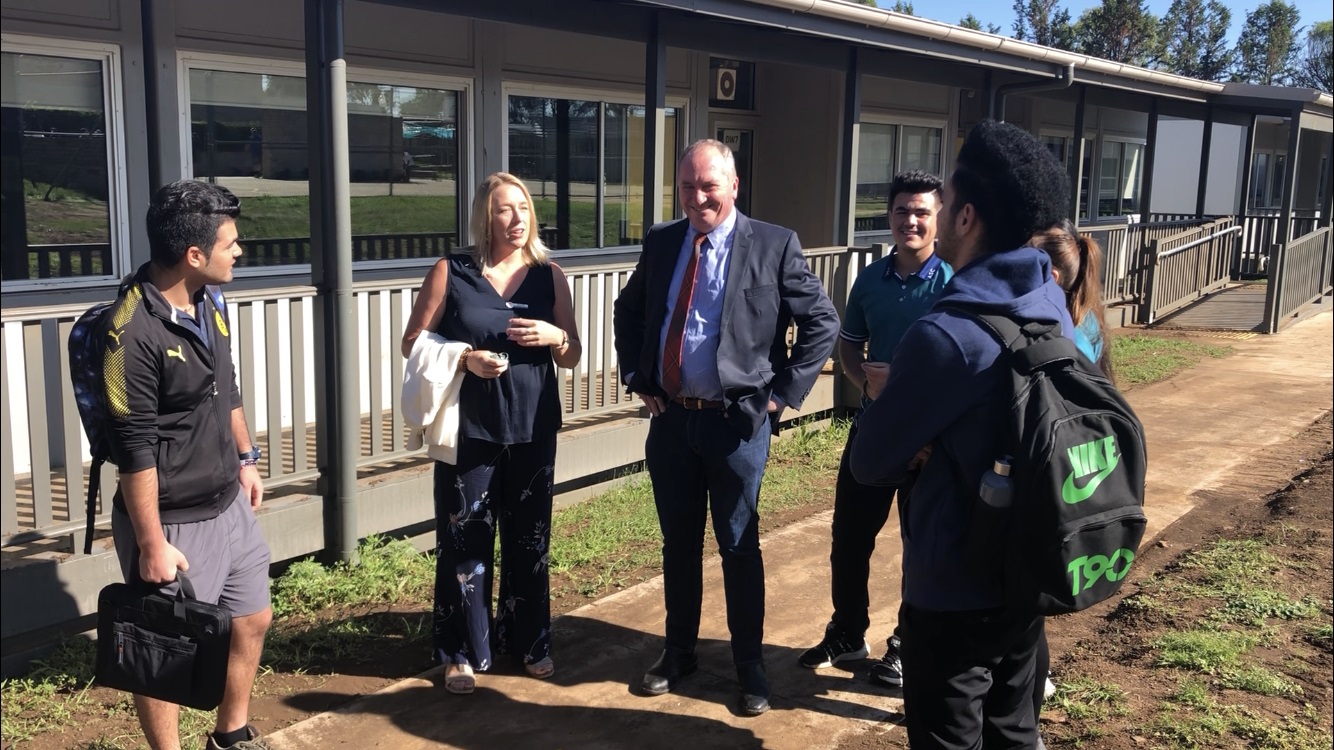 Projects in detail:
$18,243 - St Joseph's School, Uralla: Making Our School More Energy Efficient and Ecofriendly: Project includes replacing old light fittings with LED lights, replacing heater with reverse cycle air-conditioner and installation of blinds on classrooms windows.
$20,000 - St Mary of the Angels Primary School, Guyra: Water For Our Future. Drilling of a bore and installation of piping to access water for playground use. This will enable to school to provide a green space for students to actively participate in safety, in a town on Level 5 water restrictions, while also drought-proofing the school for future times of water restrictions.
$6,500 - O'Connor Catholic College, Armidale. Science Investigation Equipment: Purchase 10 compound microscopes, two electrophoresis kits and equipment supporting resources for students' exploration of Stage 4, 5 and 6 Biology.
$15,358 - Macintyre High School, Inverell: Special Education Technology: Project involves incorporation of an Interactive CommBox in Special Education classrooms and lessons to support students with learning or physical disability.
$20,000 - The Armidale Waldorf School: Irrigation Water Tank Project: Involves extension of drinking water collection and self-sufficiency plan in maintaining the school's vegetable garden which provides produce used in the weekly Friday Tuckshop.
$20,000 - Peel High School, Tamworth: Playground Upgrade, Shade Sails Outdoor Furniture: Installation of new equipment to support a sun-safe environment. Will offer considerable benefit to Support students as Support Unit classrooms are located immediately adjacent to the area.
$20,000 - Werris Creek Public School: Upgrade of Interactive Technology: Project will replace outdated teaching aids and resources to enable staff to fulfil the technology component of the curriculum, ensuring all students at the school achieve their expected outcomes in technology.
$18,000 - Duri Public School: Establish Outdoor Community Kitchen: New facility will be located next to an existing school garden. The new kitchen will assist students learn about preparing and eating healthy, school-grown produce.
$12,500 - Bendemeer Public School: Paddock to Plate Kitchen Installation: Project will enable students to use fresh produce from the garden in the kitchen. The kitchen would also be used to establish a breakfast program to support drought families.
$17,309 - Tenterfield High School: THS Aboriginal Performing Arts Project: Includes performance and video production workshops for Aboriginal students by One Vison Productions. Will also support students to continue the creative process and community involvement by purchasing audio-visual equipment.
$15,241 - Delungra Public School: Library Refurbishment: a new interior makeover including new shelving and furniture for students to enable better access and engagement in learning activities and reading. As there is no public library in Delungra, this project will offer significant benefit.
(ENDS)