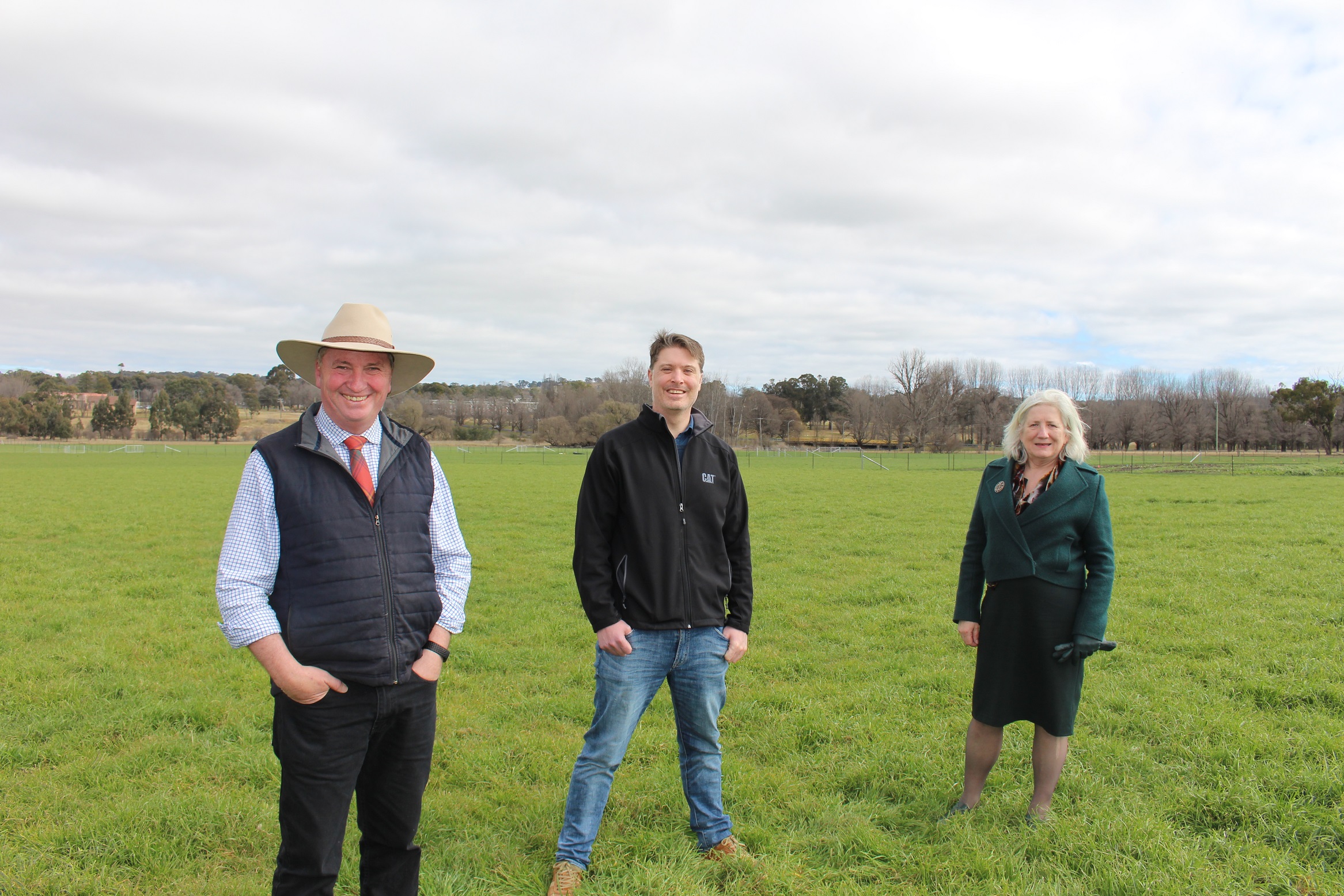 Pictured: Federal Member for New England, Barnaby Joyce, UNE Computer Science specialist Dr Edmund Sadgrove and UNE Vice-Chancellor Professor Brigid Heywood in Armidale to announce $2.9 million in funding which will help develop robotic technology to manage weeds in pasture more effectively.
A New England-based project which is developing technology to autonomously and remotely control weeds in agricultural production is one of 10 Australian research initiatives to share in a $25 million funding injection from the Federal Coalition Government.
The project titled 'Novel autonomous robotic weed control to maximise agricultural productivity', involves developing an autonomous mobile robot, "Kelpie", to identify individual weeds and selectively spray or remove them.
Member for New England, Barnaby Joyce, said the successful Cooperative Research Centres Project (CRC-P) was recently awarded $2.85 million in Australian Government funding and will be led by Armidale's University of New England.
Kelpie will record the position and size of the weeds, produce a Weeds Map for planning and audit purposes, and a Feed Quality Map with the current farm stock carrying capacity.
"Every farming business is looking to deliver greater efficiencies and this technology will help achieve that," Mr Joyce said.
"The project will also create high-tech employment opportunities in rural areas like our own and has application in other sectors outside of agriculture such as autonomous vehicles.
"The New England has a strong, long-standing reputation as a leader in agricultural development and I'm proud to help further that advancement with delivery of funding support from the Australian Government."
Minister for Industry, Science and Technology Karen Andrews said round 9 of CRC-P grants involved 29 Australian companies, including 22 small and medium businesses.
"The Coalition Government is committed to supporting innovative ideas and assisting researchers and industry develop real-world solutions to issues facing Australia and the world," Minister Andrews said.
"Now, more than ever, it is vital businesses and researchers work together to collaborate on outcomes which will generate opportunities and jobs as the nation continues its economic recovery from the COVID-19 pandemic."
(ENDS)