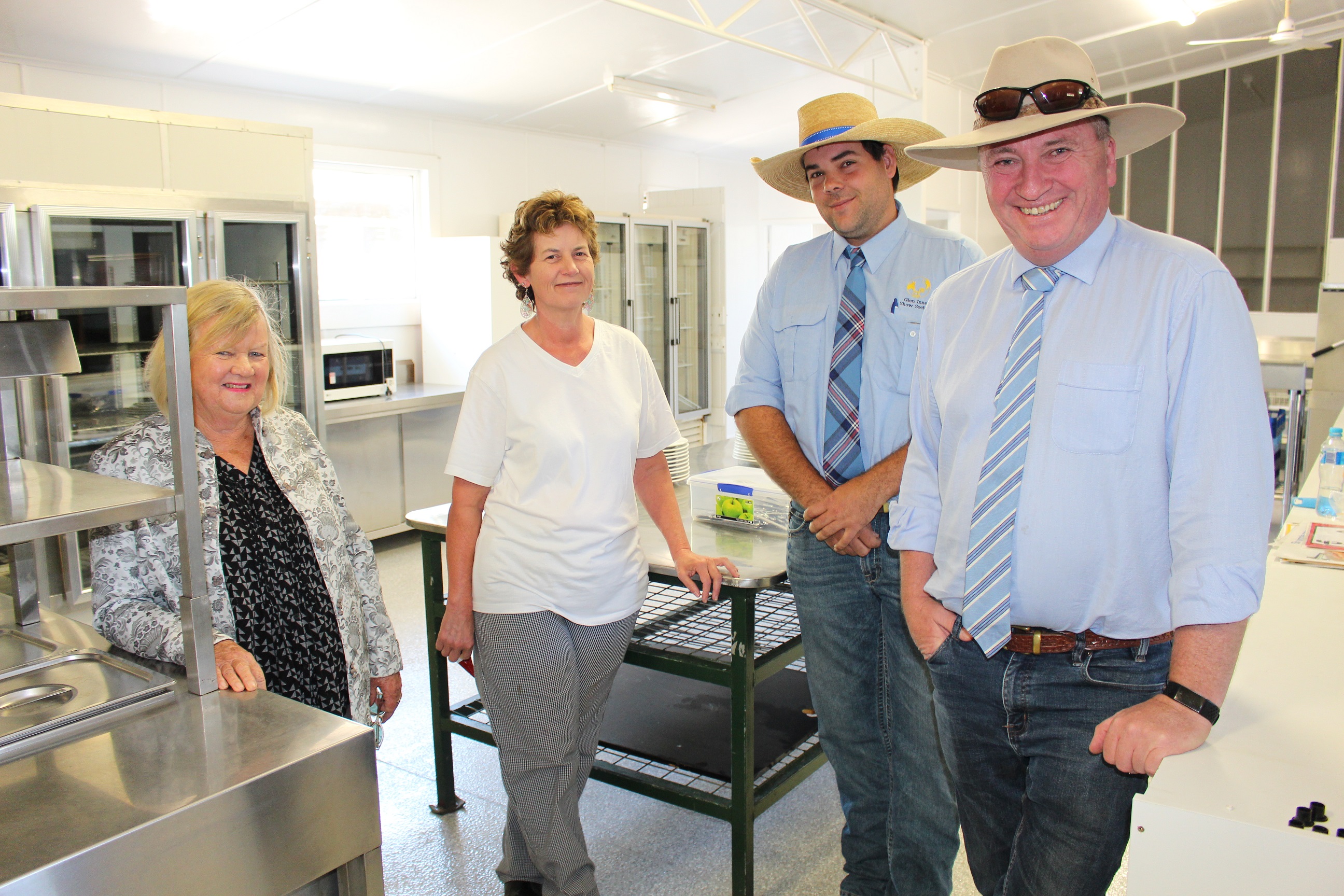 Pictured with Glen Innes Show Society and Glen Innes Severn Council inspecting works funded by the Federal Government which are soon to start on the showground canteen.
Residents in the Glen Innes Severn Shire will benefit from a further $1 million in Australian Government funding to support community infrastructure and other drought-relief projects through the expanded Drought Communities Program.

The latest funding included more than $330,000 in upgrades to the showground, a $175,000 facelift for Grey Street, $125,447 for new lighting towers at the Glen Innes Soccer Club and more than $97,000 to refurbish the Deepwater Schools of Arts. Total funding provided to Glen Innes Severn Council under this program was now valued at $2 million.

Federal Member for New England, Barnaby Joyce, said the Drought Communities Program was supporting local economies recovering from years of drought.

"This program is so important for the Glen Innes Severn Shire because it helps keep people in work, businesses in trade and the money ticking through cash tills," Mr Joyce said.

"It builds on millions of dollars in support our Government is also delivering for bushfire recovery projects and economic stimulus amid the COVID-19 health pandemic.

"It's all helping to drive the local dollar further in our communities by drawing on local resources and suppliers to increase spending and support people and businesses across the region."

Minister for Agriculture, Drought and Emergency Management David Littleproud MP said the program would deliver an enduring legacy for the local community for years to come.

"This investment is a great local example of how this Liberal Nationals Government is delivering long-lasting benefits to communities and the agricultural communities on which they depend through investment in both the Drought Communities Program and our broader drought support package," Minister Littleproud said.

Glen Innes Severn Council Mayor Carol Sparks thanked the Federal Government for its assistance to help their community recover.
"I thank them very much and look forward to showing Barnaby Joyce the results of our projects," Cr Sparks said.
General Manager Craig Bennett said many benefits will be provided to the community on the back of this funding.

"Council has been able to apply the funding to infrastructure, youth projects, arts projects, supporting local businesses and building community capacity to mention a few, after a difficult time experienced by all," Mr Bennett said.


Federal Government's Drought Communities Program Round 2 projects – Glen Innes Severn Council:

• $175,000 - delivery of a new footpath within the historic precinct of Grey Street.
• $168,208 - upgrade the stables at the Glen Innes Show Society;
• $125,447 - installation of overhead lighting towers at the Glen Innes Soccer Club;
• $117,960 - Glen Innes Show Society Ladies Auxiliary - Glen Innes Showgrounds Canteen Upgrade upgrading the canteen, leisure and BBQ areas at the Glen Innes Showground;
• $100,000 – Glenrac - engagement of a drought support officer to deliver information and other support measures including referral to mental health services, coordination of community events/webinars, support for access to funding and rebates and the distribution of donated goods and services;
• $97,205 - upgrades to the Deepwater School of Arts Hall to replace broken wall sheeting, seal all joints, paint and oil back deck, roof back deck, repaint, fix plumbing issues in bathrooms and paint;
• $80,764 - Glen Innes Rugby League - upgrading the canteen at Mead Park, Glen Innes;
• $44,760 - Glen Innes Showground Land Management - Showground BBQ Facility Upgrade, Tea Rooms Extraction Fans, and Camper's laundry.
• $33,819 - construction of a concrete ramp at the Rangers Valley Aquatic Club;
• $30,037 - construction of a storage shed at the Glen Innes Pony Club;
• $26,800 - Glenrac - Water in the Landscape Regenerative Agriculture

(ENDS)